Golden Boot Game Prizes
What You Can Win
When your team qualifies for one of our prizes it is awarded a number of Prize Tokens. Each Prize Tokens has a nominal value of one pound sterling (GBP 1.00). These Prize Tokens can be exchanged for actual prizes at any time.
The number of Prize Tokens a team has won is stored in its Team Profile. You can always check the number of Prize Tokens your team has availabe to exchange for prizes by logging in and going to the Team Profile page.
Prize Tokens won by your team are associated with your email address and will be carried over from season to season if you keep the same email address.
Combining Tokens From More Than One Team
If you have more than one team in the Golden Boot Game, you can control all their Prize Tokens under a single email address. A team can assign control of its Prize Tokens to another team in its Team Profile. This allows the assigned team to exchange the assigning team's tokens along with its own.
Note that the Prize Tokens are not actually moved to the assigned team's profile and the assigning team is still able to exchange its own tokens without involving the assigned team.
Exchanging Prize Tokens For Prizes
Option 1 - Vouchers
You can exchange your Prize Tokens for vouchers that can be spent in the UK. Popular options include Amazon vouchers, John Lewis vouchers and Love2shop vouchers. The number of tokens redeemed will be equal to the full value of the voucher. If you are looking for ideas try the Highstreet Vouchers web site.
We can supply digital vouchers or physical vouchers as requested. When redeeming your Prize Tokens for vouchers you are responsible for checking that you will be able to use the specific vouchers you choose. Different vouchers may have various restrictions and conditions attached. Under no circumstances will we ever provide cash or its equivalent instead of a voucher.
Option 2 - Tee Shirt
You can redeem twenty of your Prize Tokens for one of our Golden Boot Game tee shirts. We can supply all the usual tee shirt sizes: S, M, L Xl and XXL. Each shirt can also be personalised with your team name. If you choose this option you will need to send us your mailing address. Please see our Privacy Policy to find out how we use your personal data.
Option 3 - Donate Some Prize Tokens to Charity
We can donate some of your Prize Tokens to a charity of your choice. The chosen charity can be a local, national or international charity as long as it is a registered UK charity. We normally donate through the JustGiving web site but we can use other sites if your chosen charity is not featured on JustGiving.
Who Wins What
Golden Boot Game
Overall Champions - 100 Prize Tokens
Overall Second - 50 Prize Tokens
Overall Third - 25 Prize Tokens
Golden Boot Cup
Cup Winners - 50 Prize Tokens
Beaten Finalist - 25 Prize Tokens
Hot Spot Games
Hot Spot 1 Winner - 20 Prize Tokens
Hot Spot 2 Winner - 20 Prize Tokens
Hot Spot 3 Winner - 20 Prize Tokens
Hot Spot 4 Winner - 20 Prize Tokens
Hot Spot 5 Winner - 20 Prize Tokens
Final Five Winner - 20 Prize Tokens
Winner Of The Week
Top Scorer Each Week - 5 Prize Tokens
There are up to 35 Game Week Winner's prizes to be won in the 2023 - 2024 season.
---
Sample Golden Boot Tee Shirt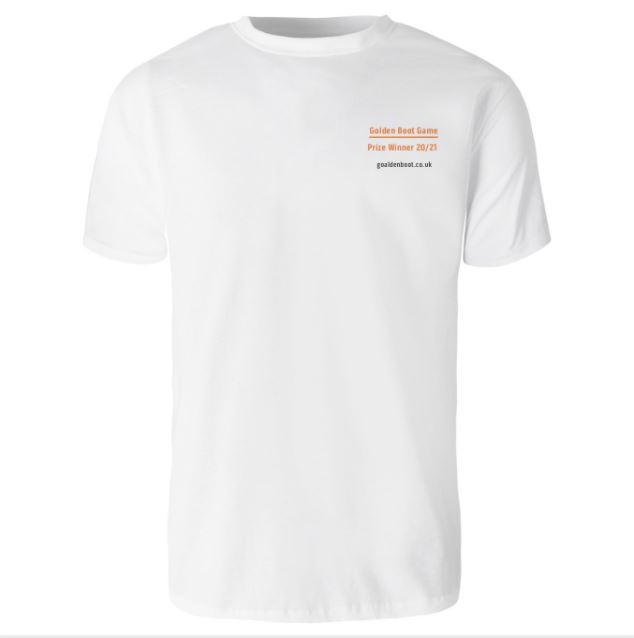 Winners From Outside UK
If you have the good fortune to win a prize and live outside the UK you will have a very limited choice of prizes. We will always do our best to help you redeem any Prize Tokens where possible. Depending on the country you will receive the prize in, we may reduce the value of the prize to cover any extra expense involved in supplying the prize. You will probably need to contact the Controllers to discuss arrangements. Remember that we will never send you cash or its equivalent either physically or by electronic transfer.
Wherever you are in the world you will always be able to redeem your Prize Tokens for a tee shirt. There are also many international charities that you could make a donation to.